If you follow
Thomas Marshall Does It All on Facebook
, then you already know that
All About Benjamin
passed us the
Liebster Award.
The Liebster Award is a blogger to blogger award, given to blogs with less than 300 followers as a way of making them more well-known to other bloggers. Sharing the bloggy love!
I have 86 followers but will be reaching 100,000 views soon. Please follow the blog if you enjoy reading it regularly. I'd love to have you on Tom's team :)
The rules for the acceptance are :
1) Visit and thank the blogger who nominated you
2) Acknowledge that blogger on your blog and link back
3) Answer the 10 questions posed by the blogger who nominated you
4 ) Select 3-5 bloggers for the award (Spreading the love!)
5) Pose 10 new questions to the new nominees
6) Post the award on your blog
Ok, let's play the game!


Why did you start blogging?
I started this blog because I felt alone as the parent of a blind/medically complex child. No one I knew had a story like mine. I was a stay-at-home mom and spent my days and nights reading about and researching childhood blindness and therapy/resources. I was obsessed. Tom filled my days and my research and reading filled my nights. Since I have a background in communications/writing, I decided that I wanted to tell our story to help others and share the resources I found.
What Is The Most Important Thing You Have Gotten Out Of Your Blog?
A sense of peace. By connecting with other parents of blind and visually impaired children I don't feel so alone anymore. I feel like I am helping people by sharing our story and that makes me feel amazing.
And I love being able to challenge the ideas people have in their head about what a blind person can do. Thomas amazes me all the time with his simple solutions and "can do" attitude. He just finds a way to do what he wants. However, I know he will encounter roadblocks and prejudice because of his disability. It is very important to me to spread his story to educate people about the potential and wide spectrum of abilities that exist among people with blindness.
Favorite Memory
Wow, that's a tough one! No pressure. I don't even know how to answer that so I will share a special memory. When Tom was a baby I remember being just devastated by the idea that I'd never play peek-a-boo with him because he is blind. Some things just hit you hard. Well, you don't need sight to understand peek-a-boo! By the time Tom was 10 months old he was playing peek-a-boo with his blanket. It is a small thing but it felt huge.
Favorite Book
I am a big reader so I'm going to list some of my favorites. All the Douglas Preston & Lincoln Child books, 1984, The Red Tent, The Eight, Ain't Nobody's Business if You Do, Girl With The Dragon Tattoo Books, The Glass Castle, The Historian, All the Janet Evanovich novels.
Favorite Place
Home!
What Movies Have You Seen The Most Times?
Some movies I will watch every time they come on. Overboard, the Rocky Horror Picture Show and the Birdcage are some favorites. I also love stupid romantic comedies so I watch them over and over again.
New Years Resolutions?
To eat better myself and work harder on getting Tom to eat more by mouth.
What Was The First Thing You Wanted To Be When You Grew Up?
I wanted to be a fashion designer as a child (I had no idea that involved sewing.) However, my family thought I would grow up to be a bag lady because I always used to drag purses around filled with junk.
First Thing You Would Buy Or Do If You Won The Lottery?
I would go on a big, exotic vacation with my family. Having a child with special needs can really change your finances (I stayed at home for almost three years to make sure Tom got the proper care/start he needed. We were not expecting that.) We haven't been on a vacation since our delayed honeymoon to NYC six years ago. Someday :)
Seriously, though - how cute is (are) your kid(s)?
Tom blows my mind with his cuteness.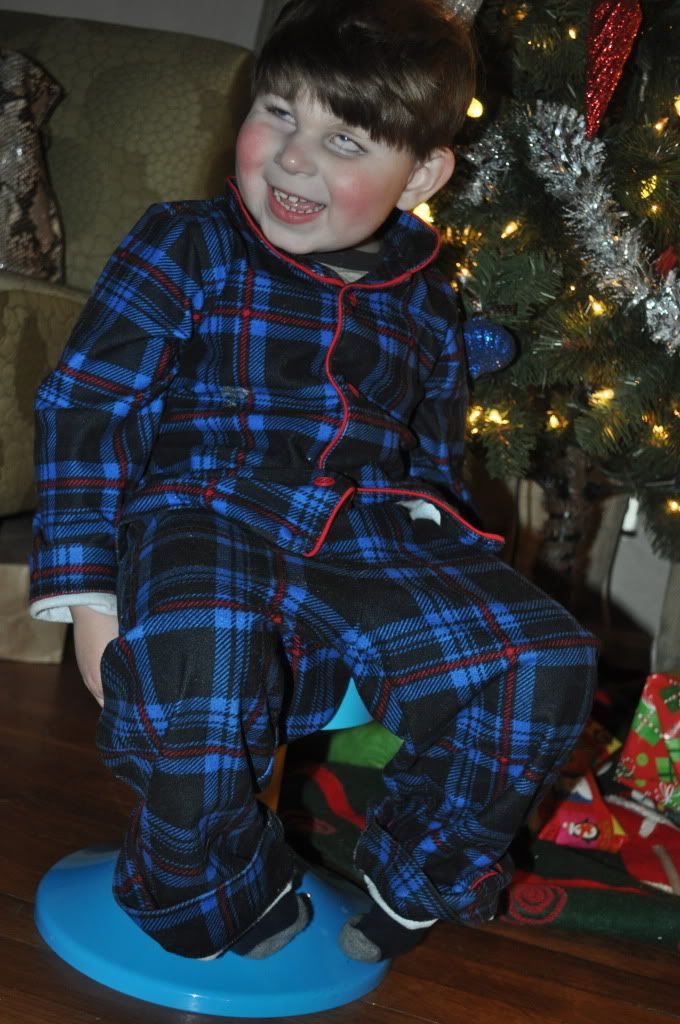 One cool dude.
The Next Liebsters!
A Mom's Musings A mom, who happens to be Deaf, has three awesome kids. One child is Deaf as well and her youngest is Deafblind. Read and learn!
Peanut & Phouka's Adventures
Informative and real. A real family talking about life with a visually impaired child and sharing great resource information.
The Independent Little Bee
This blog is written by a Teacher of the Visually Impaired (TVI) and it gives me so many ideas. I wish there were more blogs like this.
Our Family...His way
Do you remember
when I told you about Aiden
? He is an orphan in Eastern Europe who is blind. In his country there is no Early Intervention, no disability protection or advocacy and families are encouraged to give up their children with special needs. He lives in an orphanage and sometime between the ages for four and six he will be transferred to an adult mental institution to live out his days. That's really the way it is.
Well the good news is that Aiden has a family coming for him. They are doing everything they can to get this boy as soon as possible and you can support them in this journey by following their story.
H*Peans
Is a fun blog created by a friend of mine. She's a cool girl with style and I love reading her blog.
That's right, (
H*Peans
,
Our Family...His way
,
The Independent Little Bee
,
Peanut & Phouka's Adventures
,
A Mom's Musings
.) You got nominated for a Liebster award. So create a post like this, answer the questions below, then nominate 3-5 blogs and keep it going!
Liebster Questions (A mix of fun and serious)
Why did you start blogging?
What's your favorite guilty pleasure TV show?
What's the most important thing you have gotten out of your blogging?
Is blogging and sharing your story with complete strangers out of character for you?
What's your favorite sweet treat?
If you could get one thing you want tomorrow, what would it be?
What's the hardest thing about blogging?
How would you change your house if money was no object?
Favorite pizza toppings?
Tell us one unexpected thing about yourself.