Do you know about Sensory Sun? Sensory Sun Educational Technologies was created by the parents of a blind child and their mission is to advocate for children with visual impairments and develop toys with play and learning in mind.
All Play Guide from Sensory Sun
We recently got a package from Sensory Sun with
All Play 2012
, their accessible toy guide for children of all sight levels, a braille puzzle, and a Braille wristband to promote awareness. They used an Idiegogo campaign to fund the publishing and distribution costs of sending this packet to 405 families of children with visual impairments. Other fundraising efforts allowed them to distribute 1000 copies of this guide. We were one of the lucky families!
You can find a digital version and a PDF of the All Play 2012 guide on their website -
www.sensorysun.com
. Check out the rest of the website for lots of great information and resources.
Tom got several items for Christmas that were in the guide. I think our family is really getting in tune with what Tom would be interested in. Does it a make noise? That's a good first step!
He also got some big kids toys this year. Tom is three and he needs more sophisticated toys. Does it make a noise? Great, but then it better sing songs, teach him about something or have a game. These are the type of toys that are keeping his interest now.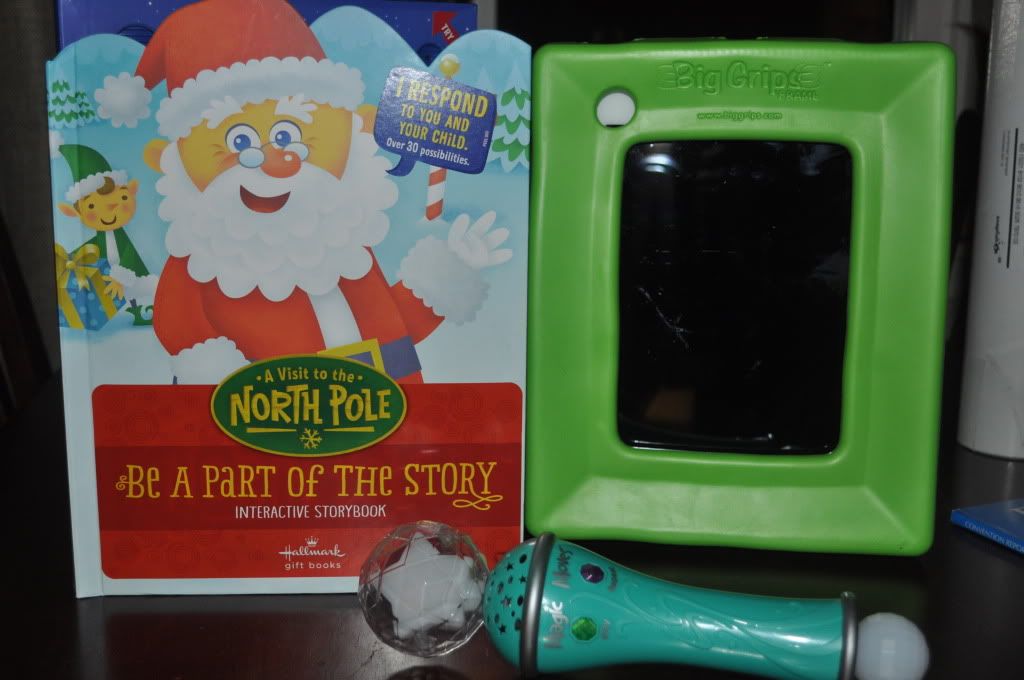 Yes, the Big Grips is on backward. What can I say? It's been a long week.
See that little green wand? That is Tom's Magic Moves wand and he loves it! It says over 50 phrases and sings songs so it really keeps his attention.
The book,
A Visit to the North Pole
, interacts with you and your child as you read out loud together. It asks the child questions about the story. I think Tom will love this next year. We really incorporate books into every holiday as a way to help Tom understand more. It's one thing to explain something to a child, but a story or activity seems to really build a whole different level of understanding.
Both the wand and the book were featured in the All Play guide. Tom also received a Bop It!, a Let's Rock Elmo guitar, and Tub Tunes flutes and drums by ALEX - which were all featured in the All Play 2012 guide.
iPad Case
He got a Big Grips iPad case and it is a winner. You will have to forgive me because I have the Big Grips on backwards in this picture. It's been a long, busy week.
When the Big Grips is on correctly it works awesome. It feels secure but still allows you to access all the button on the iPad. It is hard to get the charger out if you charge the iPad with the Big Grips on but that's my only complaint. I am very pleased with it. I also wish it came in black or red for kids with CVI.
Playing Bop It with Dad.
The Bop It! is rated for children eight and up but Tom really enjoys playing it with someone. He "gets" this game and has lots of fun playing it with us.
I am so glad to have a portable toy that we can use together. This opens up opportunities for play and interaction with other adults and kids with the added bonus of being a well-known mainstream toy.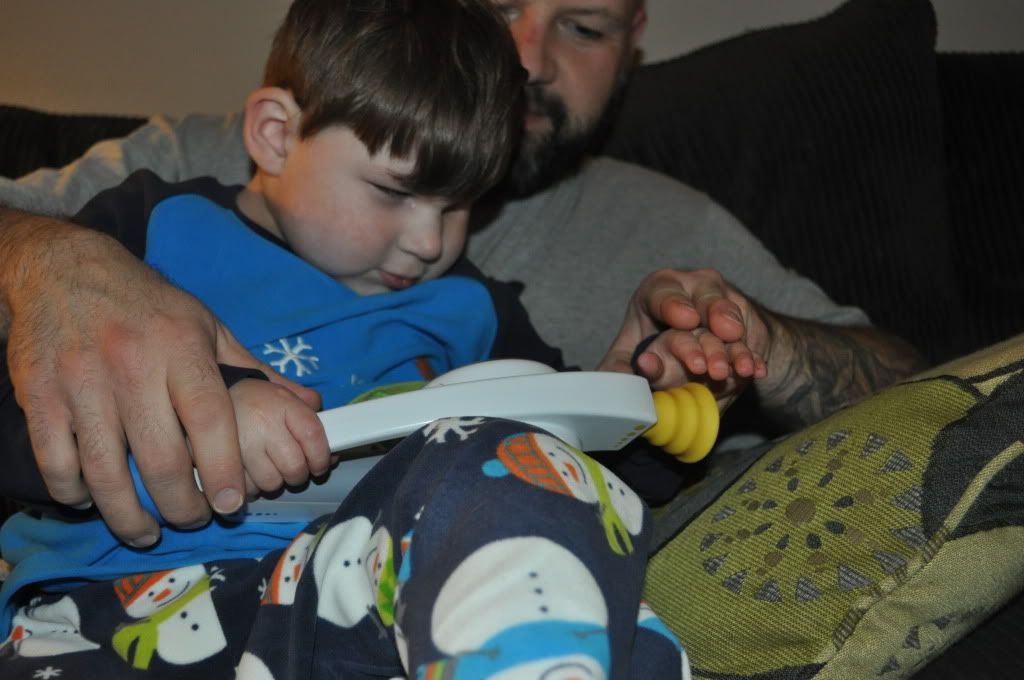 Did you have any toys from the All Play 2012 guide? Did you discover a great accessible toy this year? Tell us about it in a comment.